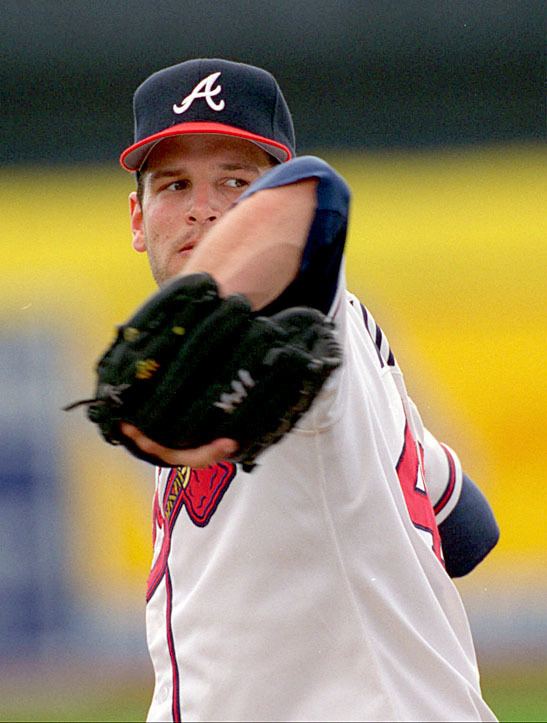 Wohlers is the latest big injury for Braves.
Just a few days ago, I sent a post about my
1994 Atlanta Braves
losing
Tony Phillips
for the season. The Braves decided not to make any trades at the deadline and pressed on with
Ron Gant
as the Braves' center fielder, then two days after Phillips' injury, Gant was placed on the 15-day disabled list for a sore elbow.
Matters continued to get worse for the Braves, as they lost
John Smoltz
for 5 weeks due to an oblique strain. The Braves will have to bump
Steve Avery
to the #3 slot, with
Alan Benes
bumped up to the #4 slot, while
Pete Smith
will come over from the pen & serve in the 5th slot. The Braves made a call to Triple-A Richmond, bringing up reliever
John Kelly
.
Then a few weeks later (Sept 6th)
Ryan Klesko
was placed on 15-day disabled list for a bruised collarbone. The Braves called up
Tony Tarasco
for outfield depth.
Then September 18th with
Mark Wohlers
lost for the season with a torn ulnar collateral ligament, he will be out 8-9 months.
Roberto Hernandez
will be moved back to closer role, with
Mike Stanton
&
Mike Maddux
as his setup men.
Then
Deion Sanders
on September 19th, fractured thumb out for 4
weeks.
Every time the team starts to roll, the team hits a snag of injuries, we'll see how this plays into their chances at a World Championship. The team is currently 94-49, and are about to clinch their division with a 19-game lead on the
Los Angeles Dodgers
.
Their potential playoff opponent is between the N.L. East-leading
Montreal Expos
(91-51) and the
Pittsburgh Pirates
, who trail Montreal by 3 games. The Expos are the defending champs, who defeated the
Oakland Athletics
in the 1993 World Series.